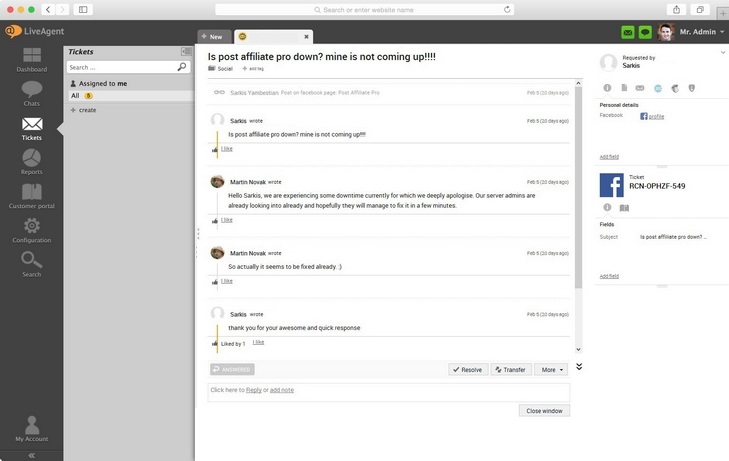 Facebook ticket
LiveAgent connects with your Facebook page and tracks all wall posts, comments and private messages so you can have your fans and haters under control 24/7. Everything is tracked and transformed into Tickets so your customer support Agents can react right when a complaint is created and put out the fire before it spreads. With LiveAgent, you have 100% certainty that nothing gets lost on Facebook.
Business Benefits
Surprise your customers with lightning-speed customer service on social media
You are automatically notified about new facebook comments, posts or messages
No need to add more administrators to facebook pages, manage permissions in one place
Monitor, answer and archive all Facebook wall posts in one place
If you have more Facebook Pages, LiveAgent can monitor all of them for you. Expand your reach and engage with more users. By providing support over Facebook you're turning your support answers into a new way of marketing, as your answers reach also friends of your customers.
Using the Facebook channel integration, you can do the following:
Monitor multiple Facebook pages
Respond to Facebook messages
Respond to Facebook posts
Respond to Facebook comments
Archive your Facebook communication into Tickets
Save time and money
Your support team should answer support requests on your pages, but not being constantly disturbed by hundreds of private messages and notifications they receive. Let them answer Facebook support requests without the need of being logged into Facebook.
Archive your Social Media Communication
LiveAgent will archive your Facebook communication into Tickets. Easily categorize and search your Facebook posts and comments of customers.
Facebook Security
Manage access permissions to your Facebook Pages directly in Live Agent. No need to give your employees administrative access to your Facebook Pages.
ExampleLet's say your customer is having problem with live chat and write it on your Facebook page wall -> this post automatically tracks in LiveAgent, so your support representative can respond to it immediately.

Facebook complaint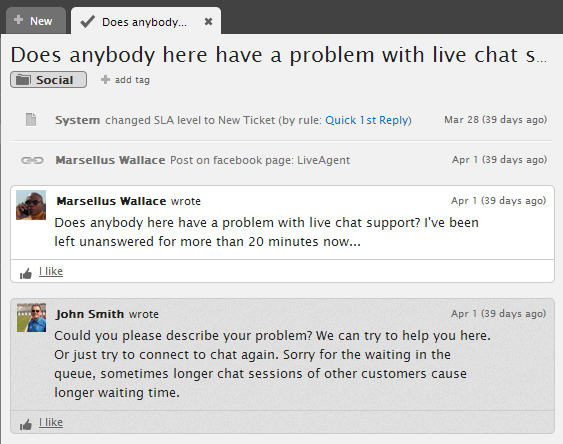 Facebook complaint tracked in LiveAgent
Since March 2020 Facebook implemented a new messaging policy for Facebook business pages.

To sum it up, Facebook business pages have 24 hours to respond to an user after that user has gotten in touch with their business page. Business pages won't be able to reply that user outside of the 24 hour period, unless they're using ad campaigns.

When an agent tries to reply such Facebook ticket directly through LiveAgent he will see this error:
Sending message failed. Can not send message: Facebook authentication error. Message: (#10) This message is sent outside of allowed window. Learn more about the new policy here: https://developers.facebook.com/docs/messenger-platform/policy-overview

Facebook is currently working on a special permission type called Human Agent tag which will extend this time to reply to 7 days, however it's currently in a closed BETA. Therefore all we can do right now is wait until it gets implemented so we can start using it.

Official and more detailed info regarding these new messaging policy can be found here: https://developers.facebook.com/docs/messenger-platform/policy/policy-overview